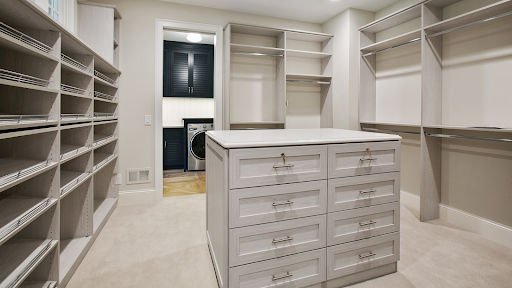 A closet is so much more than just a place to store your clothes. For many, closets act double duty as a dressing or sitting room, just as much as the primary storage center for your clothes, shoes, and accessories. A good closet incorporates all these elements, seamlessly creating a functional, convenient, durable, and aesthetically pleasing space. This often means creating a custom closet that fits your home and space and your lifestyle! 
Customizing a closet may seem like a daunting task, so ask yourself some important questions about your personal preferences before you get started. For example, what items of clothing do you need more space for? What could you store more efficiently? And do you get dressed in your closet? If so, do you need a place to sit? Think about these carefully to design the perfect custom closet for you. 
Take a look at some of our favorite custom closet solutions: 
Vertical Space.

Use as much vertical space as possible. Most closets that we see don't utilize enough of their vertical space, which leaves you with a lot of dead space that you can't use. Or, worse, you'll use it to stack larger boxes and other clothes, leading to a poorly organized area. Instead, build your closet storage about 12 inches below the ceiling. This will leave enough room for you to store large boxes and suitcases, without leaving too much dead space.

 
Adjustable Systems.

When installing your closet solutions, choose an adjustable closet system with side support rails and increment holes. This will ensure that you can move and adjust your shelf or clothing rod height to wherever you need it. Remember, as styles and trends change throughout the year, a closet that can adapt with it will make your life easier!

Depth.

Adding shelves seems like an easy custom closet solution, but the truth is, many shelves are too shallow to store the average person's clothes properly. No matter how big or small your closet may be, it's important to ensure that your shelves are deep enough to support and store the amount of clothes you own. Aim for 14-inch deep shelves or even more – though most manufacturers will offer 12-inch deep shelves, this is often too small for most people. 

Drawers.

Don't underestimate the power of adding drawers to your closet! Drawers are an excellent way to easily organize your clothes, especially small items like socks, undergarments, scarves, etc. This will help divide up your closet to quickly get dressed in the morning. Say goodbye to frantically looking for that one belt or the specific top you need when you're late for work one morning! 

Shoe Storage.

Shoe storage is one of the more complicated things to store because of height. While many people want a raised shoe shelf, these harsh angles can create a ton of dead space in your closet. Use flat, adjustable shoe shelves to store and see shoes quickly, with the option to adjust the height as you'll likely have shoes of varying height and size throughout the years. The more space you have, the more shoes you can buy! 
SAI Home Creations is an established provider of top-quality cabinets, vanities, and countertops in the Tampa Bay area. Our experienced staff is passionate about helping you choose the perfect look for your kitchen, closet, or bathroom that fits into your budget. 
Let us bring your dream to life! Visit our website to learn more, or call us at (813) 644-6969 to get started today! 
Sources: 
https://www.thisoldhouse.com/closets/21015303/the-principles-of-smart-closet-design 
https://www.affordableclosets.biz/custom-closets-raise-home-market-value 
https://innovatehomeorg.com/blog/2019/01/11-custom-closet-design-mistakes-to-avoid-columbus-ohio/ 
https://www.thriftydecorchick.com/2021/08/20-DIY-custom-closet-organization.html