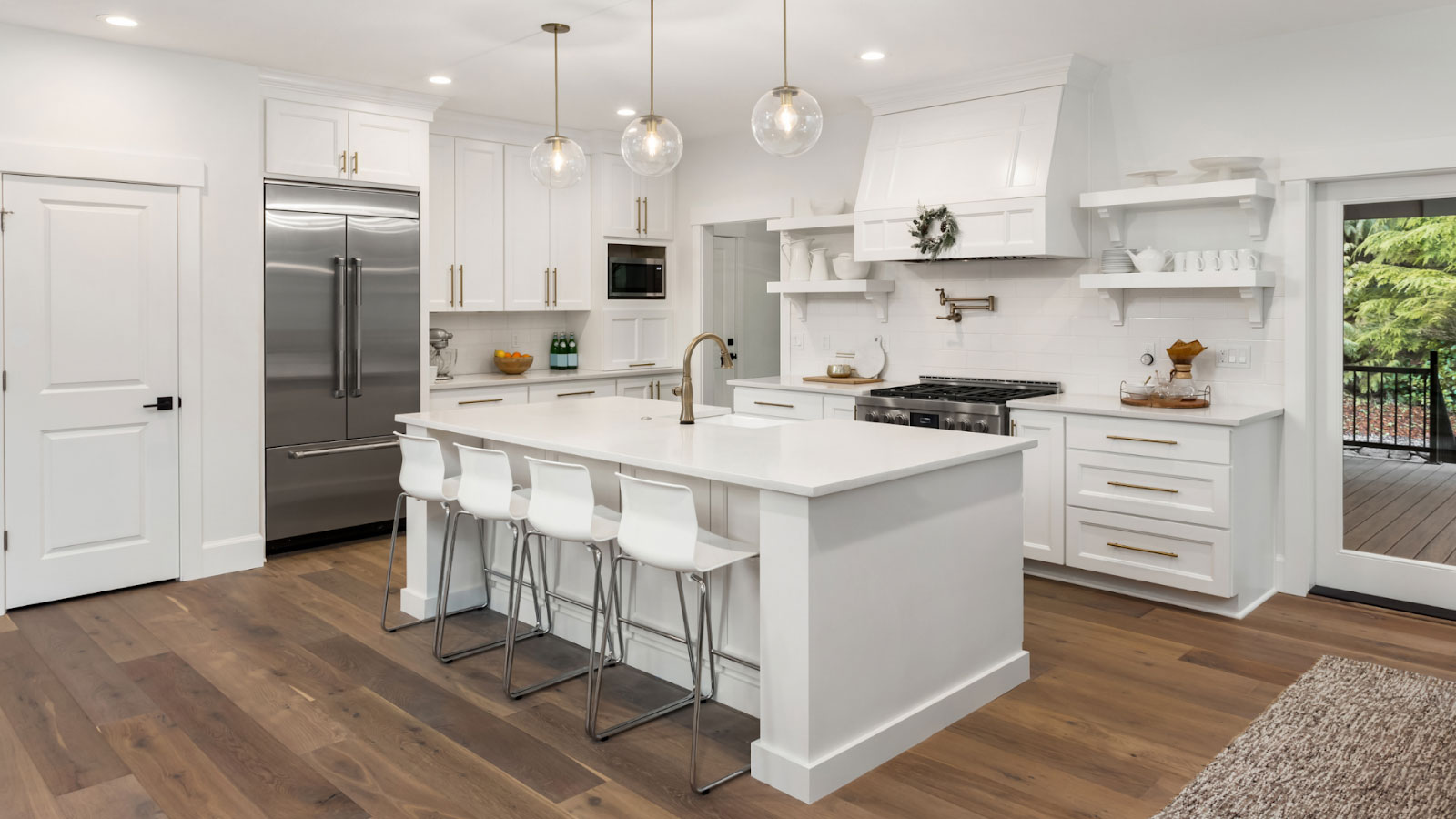 Spring is the perfect time of year for fresh starts and new beginnings! As the weather thaws and the plants begin to bloom and grow, it seems that new life is popping up all over the place. And why should you let your home be an exception?
One way to give your home a fresh spring look is a new kitchen. Your kitchen is where your family and friends gather at the end of a long day at work, recapping the highlights of the day while preparing the meal you will all share together. It's a place where you not only gather but where your creativity can thrive.
Get exceptional quality and functionality while achieving the design look you are going for! Here are a few of our favorite kitchen trends and remodel ideas this spring.
Vinyl Flooring
Vinyl flooring is now even more popular than ceramic or porcelain tile. Real Simple says that not only is vinyl water-resistant and affordable, but the softer feel underfoot may make it attractive to remodelers that want a comfortable home. 
Splurge on Countertops
According to Houzz, an overwhelming majority of homeowners (91%) replace their countertops during a kitchen remodel; and 35% of homeowners say they decided to spend more, or splurge, on their new countertops than they had initially planned. Engineered quartz remains the leading material for upgraded kitchen countertops, with 42% of homeowners choosing it. Granite remains the second-most-popular choice. Other countertop materials chosen include laminate, solid surface, and concrete.
Long Kitchen Islands
According to Real Simple, homeowners are using all that extra space to not only cook and bake but also to work from home. Nearly 20 percent report they now work from their kitchen island. The area below the counter is being used for extra storage, with 78 percent adding cabinets with closed doors.
High Tech Appliances
According to Real Simple, more than one-third of homeowners reported adding a new kitchen appliance with high-tech features. Number one on the list: appliances with wireless and smartphone controls (26 percent). Now you can control the oven temp and cooking time from your phone, without getting up from the sofa. Or use an app to see inside your fridge the next time you're at the grocery store and can't remember if you need to buy milk.
When it comes to giving you the kitchen of your dreams this spring, trust your friends and experts at SAI Home Creations. SAI Home Creations is an established provider of top-quality cabinets, vanities, and countertops in the Tampa Bay Area. Our expanded staff is passionate about helping you choose the perfect look for your kitchen that fits your budget.
We always look forward to helping you remodel your kitchen or bathroom with quality wood cabinetry and premium granite, marble, or quartz countertops. For more information, visit our website to schedule your appointment today!
---
Sources
https://www.realsimple.com/home-organizing/decorating/decorating-kitchen/kitchen-trends-2022-houzz
https://www.oregonlive.com/hg/2022/01/2022-kitchen-trends-find-popular-houzz-colors-cabinets-appliances-on-sale.html
https://www.houzz.com/magazine/10-big-takeaways-from-the-2022-u-s-houzz-kitchen-trends-study-stsetivw-vs~155930753
https://stylebyemilyhenderson.com/blog/9-kitchen-trends-that-will-hit-big-in-2022
https://www.womanandhome.com/us/homes/kitchen/kitchen-trends-2022/