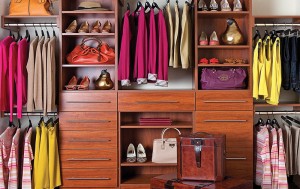 Sai Home Creations offers a full line of true closet cabinets for that built-in look without the cost of custom cabinets. These cabinets are made from furniture grade particleboard finished with a durable melamine surface bonded for strength and longevity. Each cabinet is assembled to exacting standards and shipped directly to your home or job site in 10 days or less, ready to install.
The cabinets come in 4 drawer styles and 5 finishes providing a wide range of style options. Accessories include hampers, tie racks, belt racks, mirrors and many more allowing you to create that custom solution just for you. Best of all, the closets are guaranteed for life to give you peace of mind. We have a variety of custom closet cabinet styles on display in our Tampa showroom located at 10002 Williams Road,
Tampa, FL 33624. Feel free to make an appointment or just come on in!