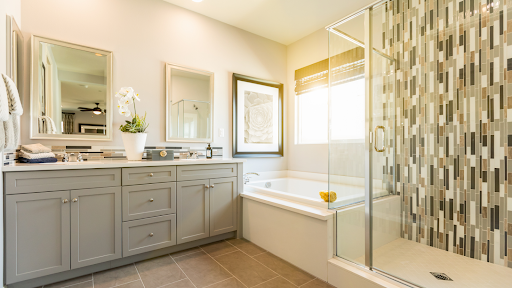 Are You Thinking About Remodeling Your Bathroom This Year?
Remodeling a bathroom is never as simple as you think. Unless you're a designer or homeowner who has gone through the remodeling process a few times, you're probably unaware of the many things to consider for your bathroom remodel. Budget and bathroom necessities are definitely the first thing you should start with, but what about design? With so many options available, how do you know the best things to add to your bathroom remodel?
Take a look at some of the biggest design considerations to make when remodeling your bathroom this year so that you can make the bathroom of your dreams: 
Floorplan.

Start with the floorplan of your bathroom. Could it be better designed for daily use? For example, if your toilet is the first thing you see when you open the bathroom door, you may want to consider moving it to somewhere a little more private in the bathroom. Avoid making the toilet the focal point of the bathroom if you can. Take a look at the dimensions of your bathroom with the dimensions of different appliances (i.e., bathtubs, vanities, sinks) to decide the appropriate sizes for each and choose the correct location. Those with smaller bathrooms may want to take out a bathtub in favor of just having a shower to save space, and corner sinks can also save you some room!

Lighting.

The bathroom is perhaps the room you'll want to have the best lighting, so take some time to develop a good lighting scheme. A mix of task, accent, ambient, and decorative lighting will make the bathroom well-lit, eliminating shadows with softer lighting that makes getting ready and make-up application extremely easy. Layering these lighting types takes some good design work, so consider bringing an interior designer in to help you. 

Paint vs. Tile.

Depending on your budget, you may be considering whether paint or tile is the better option for you. While paint is the more budget-friendly option, we typically recommend choosing tile for its ability to keep out moisture, mold, and mildew. You can find paints that do this, but tile is more effective. From there, you'll need to consider different tile patterns, sizes, colors, and even grout colors that could affect the entire aesthetic of the bathroom. 

Cabinets.

No matter how big or small your bathroom is, cabinets are an absolute must to store toiletries and clear space to make the room as clutter-free as possible. Invest in high-quality cabinetry that won't warp from the humidity of a bathroom, and make sure you pick cabinets that are perfectly matched for the size of your bathroom. Then you'll want to decide on cabinet styles, wood types and tones, paint colors, hardware, etc.

 
Countertops.

Replacing your countertops is an easy way to upgrade your bathroom significantly. Granite is a low-maintenance countertop option, but quartz and marble are also beautiful in a bathroom. While countertops aren't the cheapest part of a bathroom remodel, remember that it's essential to the function of your bathroom and that they will still cost significantly less than the countertops in your kitchen. You'll also want to consider the height of your countertops; typically, countertops are 32-34 inches off the ground. However, if your sink is above the counter, you'll want to lower the countertop to compensate. 
SAI Home Creations is an established provider of top-quality cabinets, vanities, and countertops in the Tampa Bay area. Our experienced staff is passionate about helping you choose the perfect look for your kitchen and bathroom that fits your budget. Our designer showroom has a large array of products, from granite, marble, and quartz countertops in over 200 different colors and styles to a vast selection of cabinets. From custom-fitted kitchen cabinets to bathroom vanities, we have it all! 
Visit us today! Learn more on our website or give us a call at (813) 644-6969 to get started. 
Sources: 
https://www.houzz.com/magazine/15-design-tips-to-know-before-remodeling-your-bathroom-stsetivw-vs~42379490 
https://www.remodelista.com/posts/what-to-know-bathroom-remodel-tips-cost/ 
https://www.thisoldhouse.com/bathrooms/21019042/11-things-to-consider-before-you-remodel-your-bathroom 
https://metrobathandtile.com/blog/20-things-to-consider-before-beginning-your-bathroom-remodel/ 
https://www.hgtv.com/design/remodel/bathroom-remodel/bath-remodeling-what-to-consider