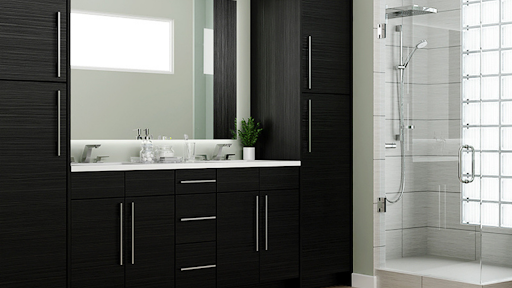 Although we think they get an unfair reputation, bathrooms are an often overlooked part of the home to make beautiful. After all, we go in there to take a quick shower, get ready for the day, and well, you know…take care of business! So naturally, a bathroom is a space often seen as unglamorous.   
But why CAN'T a bathroom be glamorous? After all, not only is it a room used multiple times a day, but a bathroom should feel like a relaxing and gorgeous personal retreat rather than an eyesore or a chore.
If this is the year you decide to give your bathroom a much-deserved upgrade, we've got you covered! Here are a few stunning bathroom trends this year that will provide you with plenty of inspiration. Incorporating one or several of these tips will give you a bathroom you'll look forward to spending time in. 
Invest in a Walk In Shower
Paul Wells of Sanctuary Bathrooms has found that "more people are choosing to go for walk-in showers and wet rooms over baths, while also moving away from smaller cubicles to much bigger and larger enclosures."
This trend is "matched with colorful and patterned tiles that can create a stunning feature wall or backdrop."
Incorporate Statement Marble
According to House Beautiful, you can achieve a subtle yet impactful statement with marble. Andrew Henry of Andrew Henry Interiors predicts that we will see "white and grey shades of marble used in higher-end luxury schemes." He advises that interior designers can create "a feeling of opulence by using materials that contrast with each other to build visual and tactile texture in the room," 
Bring in Natural Materials
House Beautiful further emphasizes that neutral spaces will veer warmer thanks to natural materials. "Bathrooms now should be clean but not clinical," advises David Thompson of Assembledge+. "Bring in the fresh air and let the sun fall across textured tile, stone, and wood.
Emphasize Luxurious Fixtures
Architecture Designer Paige Foss of Drees Homes believes that "calm and serene will remain supreme in bath designs, but those calling cards will blend with luxurious finishes and striking storage features." The most important design elements to incorporate? "A balance of light, natural hues will give these spaces that blissful, escape feel, while an abundant use of tile work will make plumbing fixtures less ornamental and more like eye candy."
When creating the bathroom of your dreams with the very best countertops this spring, trust your friends and experts at SAI Home Creations. SAI Home Creations is an established provider of top-quality cabinets, vanities, and countertops in the Tampa Bay area. Our expanded staff is passionate about helping you choose the perfect look for your kitchen that fits your budget. We always look forward to helping you remodel your kitchen or bathroom with quality wood cabinetry and premium granite, marble, or quartz countertops. 
For more information, visit our website or call  (813) 644-6969 to schedule your appointment today!
Sources
https://chrissymarieblog.com/kitchen-trends-2022
https://www.goodhousekeeping.com/home/decorating-ideas/g38595161/kitchen-trends-2022/
https://www.southernliving.com/home/kitchen/kitchen-design-trends-2022
https://www.housebeautiful.com/design-inspiration/g38331859/bathroom-trends-2022/
https://academy-marble.com/2022-kitchen-countertop-trends/