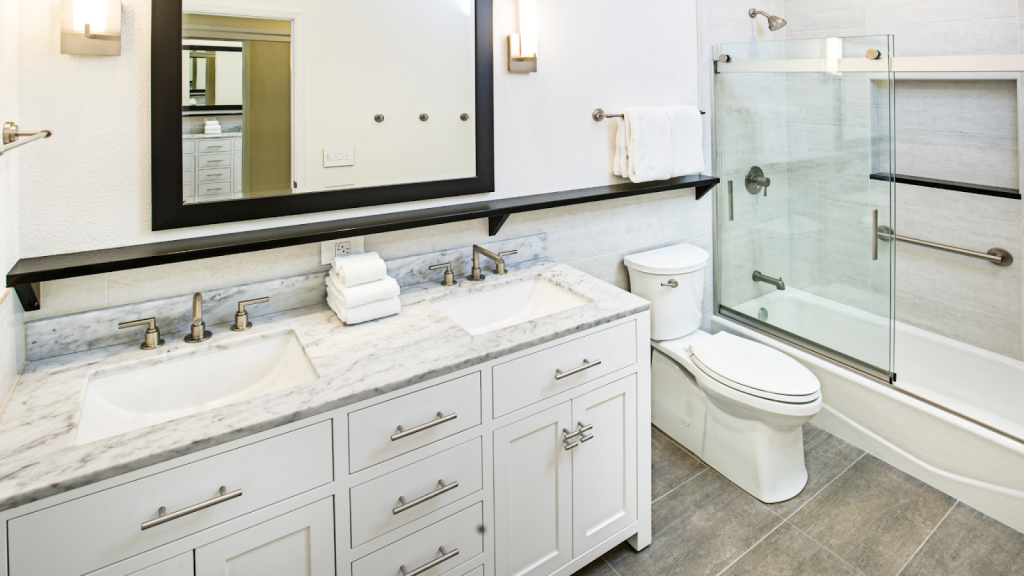 Selecting the perfect countertops can make or break your bathroom. If you're looking to design a beautiful, luxurious bathroom, staying on top of the current design trends should be one of the first things you do. And countertop trends are more diverse than ever! Though some may be overwhelmed by the various stylish options on the market, it's great to know that there's a countertop available for every style, home, and personality. 
Take a look at some of the best bathroom countertops available in 2022 so that your bathroom can stay on-trend: 
Quartz. Most homeowners want something natural, easy to clean, durable, and sanitary. Quartz is a go-to option for many for these exact reasons. With different grain patterns, quartz can come in various designs and colors, so it can fit virtually any bathroom aesthetic you're trying to achieve. It's also stain and scratch-resistant, making it great for a bathroom used by the whole family or kids!
Marble. If you're looking for a classic and luxurious countertop, marble is a great option. Marble can come in a range of colors and veins, and can add that touch of sophistication that so many want to add to their bathroom. Just make sure you're sealing it well and maintaining it properly- use a marble cleaner to protect it. 
Glass. Glass is perfect for small bathrooms as it is minimalistic, reflects light, and has no sightlines, creating the illusion of more space. Glass countertops are also very easy to clean – you can use most glass cleaning solutions. Plus, they are stain-resistant, making them a practical option as well. We love seeing glass countertops paired with decorative basins to juxtapose the simplicity of the glass with the ornate and elaborate sink. 
Wood. For a warm, homey feel, wood countertops are ideal. When paired with other natural elements, like plants, wicker baskets, or wooden furniture (think stools or ladders), wood countertops add a natural element that creates a peaceful space. Light-stained wood countertops are getting particularly popular. Because wood is naturally porous, you'll want to ensure you regularly seal it to keep out humidity and moisture to prevent mold and rotting. 
Tile. You've probably seen tile on bathroom walls, floors, and in the shower, but have you considered them for your countertops? Adding tile to your countertop is a great way to add a pop of color and texture to your bathroom. They are especially great as they are very hard-wearing and low maintenance, as long as you pick water repellant and mold-resistant grout. Ceramic and porcelain tile is typically recommended for countertops. In terms of colors, we see a significant move towards blues and greens. 
Upcycled Furniture/Material. We recommend using upcycled furniture for a truly unique bathroom where you can insert your personal style. Vintage dressers and cabinets are the perfect way to add personality to the bathroom and can add an extra layer of storage you may not have had before. As most upcycled furniture is wooden, make sure you take the proper precautions to seal the furniture to keep water out. Reseal it every so often to maintain it. 
Sources: