Happy August!  Summer will begin to wind down soon, and the kiddos will be off to school.  We hope you had a GREAT summer!
It is always exciting to see what Sherwin Williams will pick for their Color of the Month.  The Color of the Month for August 2018  is Queen Anne Lilac.  And, WOW!  Such a  beautiful color!!  Try this soft and muted color to cozy up an open-plan setting.  Queen Anne Lilac really shines when paired with white and orchid accents, and will have you feeling relaxed all year long.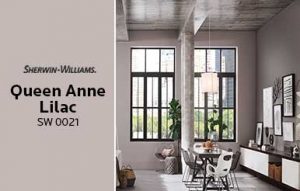 Such a beautiful color.  To find out more info and see the coordinating colors, head on over to the Sherwin Williams website.
Sai Home Creations is a Sherwin Williams dealer!  Along with helping you design your perfect kitchen, bathroom or any other space, we can help you choose colors that will bring out your style and personality.
Stop by and see us or give us a call to set up an appointment!