So, you have decided it's time to spruce up the kitchen.  There are SO many cabinet choices.  Where to start, where to start?  A good starting point is to decide if you want framed or frameless cabinets.  What are those you ask?
Frameless:  have door hinges and the door runners are attached directly to the inside walls of the cabinet box, eliminating the need for a traditional face frame.
Framed:  the interior box is built behind a picture frame-like structure on which the door hinges and drawer runners are attached.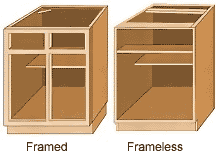 Cabinets.com has a great online article, with pictures, describing the differences of the cabinets.
Sai Home Creations has both types of cabinets!  Stop by and see what we have!